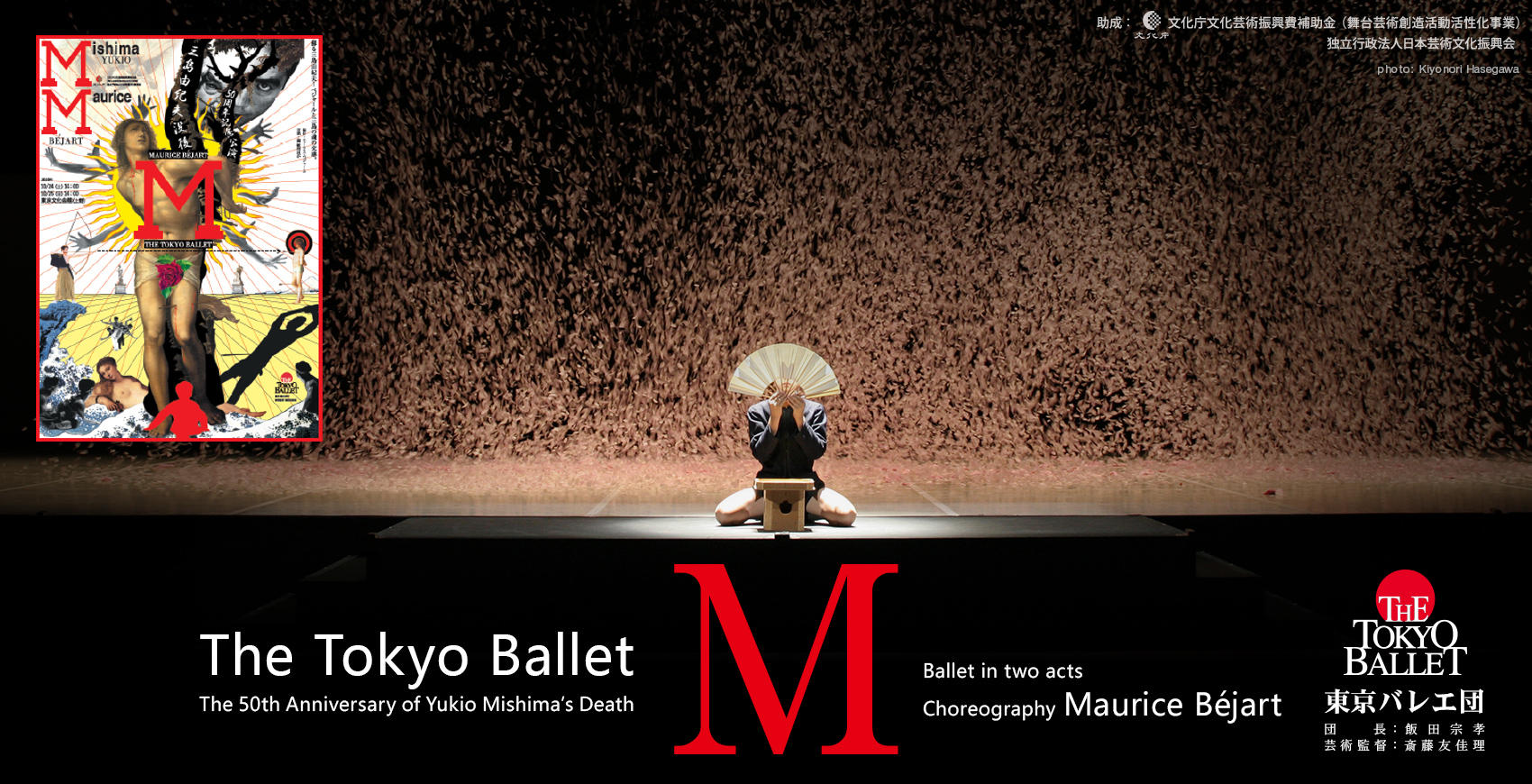 [VIDEO ON DEMAND]
18:00(JST) Wed.25.Nov. ~ 23:59(JST) Mon.30.Nov.2020
---
Miraculous fusion of Béjart and Mishima, one of the most renowned Japanese authors
2020 marks the 50th anniversary of the ritual suicide of Japan's most famous postwar novelist, Yukio Mishima. When Maurice Béjart set about choreographing a new ballet for The Tokyo Ballet in 1993, he chose Mishima as a motif.
However, he did not create a biography nor use ballet to illustrate Mishima's work of literature whose importance was not yet fully recognized at that time. It was Béjart's bold experimentation to "simply suggest, and above all, love ーwithout ever judging".
- Official Teaser Trailer -
Ticket Price
3,420 JPY (3,000 JPY + System Fee 420 JPY)
VOD Schedule
18:00(JST) Wed.25.Nov. ~ 23:59(JST) Mon.30.Nov.2020

Sales Period: General Sales
10:00(JST) Tue.17.Nov. ~ 21:00(JST) Mon.30.Nov.2020
NOTICE
※ Only credit card payments
※ We will send you a confirmation email after your purchase is completed. Please confirm the email settings, to accept email from "tstar.jp" domain.
※ After completing the application, you cannot change or cancel the tickets purchased.
※ Please check your Internet connection and audio-visual environment before purchasing a ticket.
※ Any kind of screen recording, shooting or recording with cameras, smartphones or any kind of recording devices is strictly prohibited. You may be legally liable for any kind of unrecognized reproduction or sharing on social media or other kinds of media sharing sites.
※ Viewer is required to have a high speed internet connectivity. Depending on your viewing condition, the video quality may be lower. The organiser nor Rakutuen Ticket(TicketStar) do not take any responsibility for any troubles.
※ Viewer has to cover any network fees due to the data usage.
※ Watching the video streaming will require large amount of data usage. It is recommended to connect your device to Wi-Fi or LAN.

【Recommended viewing environment】
Smartphone or Tablet device
・iOS 11.0 or later (Latest version of Safati)
・Android OS 5.0 or later (Latest version of Google Chrome)
PC
・Windows 10 or later / Mac OSX 10.9 or later (with latest version of Google Chrome, Safari, MS Edge or Firefox)

Before purchasing the ticket, please make sure you have above recommended viewing environment.
Please also check your device and software for defects.
Customer Support team will not be able to assist any troubles.
How to play the video
After purchasing a ticket, you can confirm your order information on
https://wp.tstar.jp/orderreview
.
Please click "動画を視聴する(blue button)" in Oder detail to watch the performance.
Sales Period: General Sales
Synopsis
The ballet opens with the sea, an important symbol in Mishima's works. From the sea roars, appear a schoolboy, Mishima, and four other selves who develop imagery of the themes of Mishima's masterpieces including "Kyoko's House", "Forbidden Colors", "Rokumeikan", "The Sailor Who Fell from Grace with the Sea", "The Temple of the Golden Pavilion" and his lifetime aesthetic motif, Saint Sebastian.

The Tokyo Ballet has performed "M" not only in Japan but also internationally at prestigious theaters including the Palais Garnier, Teatro alla Scala, Deutsche Oper Berlin and Hamburgische Staatsoper where it received huge critical and public acclaim. In commemoration of the 50th death anniversary of Yukio Mishima, The Tokyo Ballet performed the ballet in October 2020 for the first time in 10 years.
Cast list
Dancers: Mashu Ohno, Dan Tsukamoto, Arata Miyagawa, Yasuomi Akimoto, Shoma Ikemoto, Yuki Higuchi, Mizuka Ueno, Hitomi Kaneko, Kanako Oki, Emi Masamoto, Akimi Deanda
The Tokyo Ballet

LA PIANISTE: Yoko Kikuchi

Music: Toshiro Mayuzumi, Claude Debussy, Johann Strauss II,
Erik Satie, Richard Wagner, L. Poterat / D. Olivieri

Choreography / Decor & Costume Concept: Maurice Béjart

Staging: Juichi Kobayashi, Naoki Takagishi, Mika Yoshioka

Technical Director: Yoshiharu Tachikawa
Lighting Designer: Tatsuo Takasawa
Sound Designer: Fumitake Ichikawa
Costume Designer: Nobuko Miyamoto

Archery Instructor: Ryuichi Tejima / Kazunori Shiokawa, Keizo Osuga
Decor Coordinator: Yuzuru Suzuki

Costume Manufacturer: Atelier MIN
Scenery Manufacturer: Toho Butai
Property Manufacturer: Matsuya Kosakusho


THE TOKYO BALLET
Founder: Tadatsugu Sasaki
Director: Munetaka Iida
Artistic Director: Yukari Saito
Ballet Mistress: Shiori Sano
Ballet Staff: Kazuo Kimura