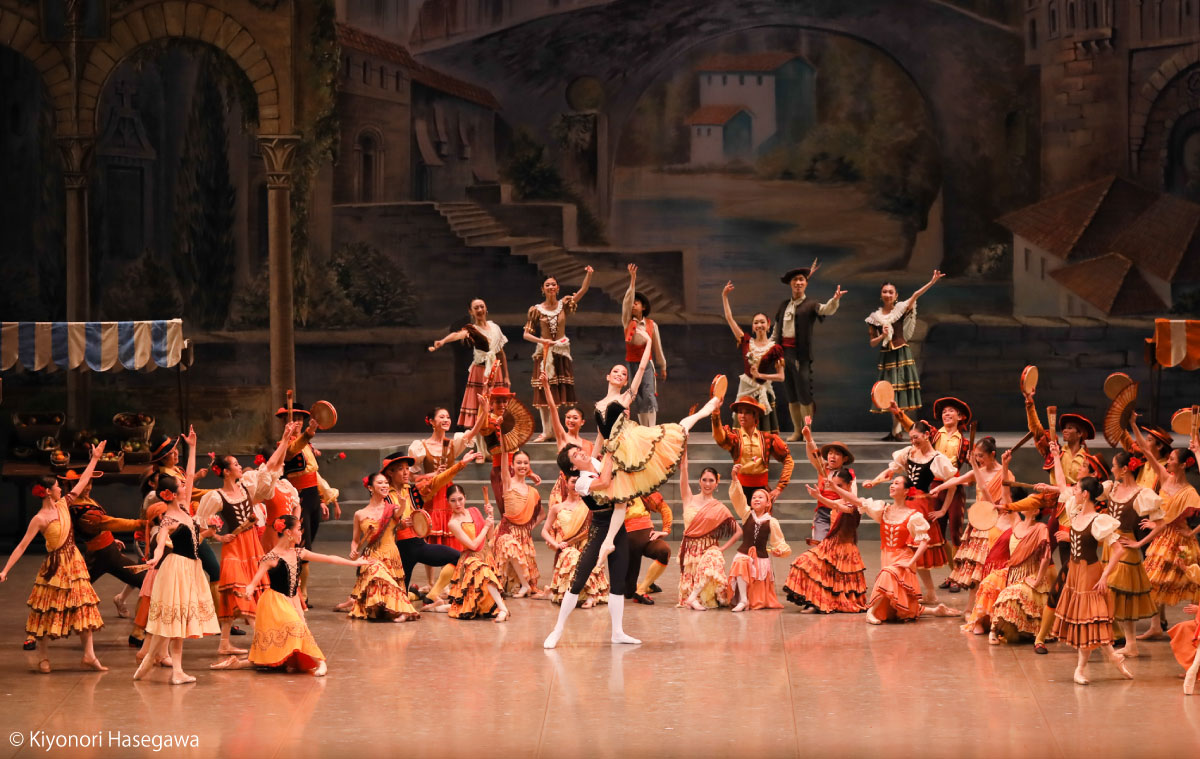 [VIDEO ON DEMAND]
Celebrating the 80th Anniversary of Vladimir Vasiliev The Tokyo Ballet "Don Quixote"
18:00(JST) Thu. 24. Dec. 2020 ~ 23:59(JST) Mon. 11. Jan. 2021
---
"Don Quixote" choreographed for The Tokyo Ballet by 'God of the Dance', Vladimir Vasiliev
"Don Quixote" is one of Marius Petipa's most popular classics. Set in Spain, the ballet has been loved for its breadth of virtuoso dancing including that of cheerful Seguidille, stylish dance of Toreadors, energetic dance in the gypsy scene, beautiful classical dance by Dyrads and the famously bravura Act III pas de deux.
The Tokyo Ballet's "Don Quixote" was produced and choreographed by legendary dancer Vladimir Vasiliev, known as the 'God of the Dance', after Marius Petipa, Alexander Gorsky and Kasyan Goleizovsky. Vasiliev's version is an elaborate fusion of tradition of the Bolshoi Ballet and modernity. The premiere by The Tokyo Ballet in 2001 received considerable acclaim, amazing the audience members and critics alike.
- Official Teaser Trailer -
Ticket Price
3,420 JPY (3,000 JPY + System Fee 420 JPY)
VOD Schedule
18:00(JST) Thu. 24. Dec. 2020 ~ 23:59(JST) Mon. 11. Jan. 2021

Sales Period: General Sales
19:00(JST) Fri. 11. Dec. 2020 ~ 21:00(JST) Mon. 11. Jan. 2021
NOTICE
※ We will send you a confirmation email after your purchase is completed. Please confirm the email settings, to accept email from "tstar.jp" domain.
※ After completing the application, you cannot change or cancel the tickets purchased.
※ Please check your Internet connection and audio-visual environment before purchasing a ticket.
※ Any kind of screen recording, shooting or recording with cameras, smartphones or any kind of recording devices is strictly prohibited. You may be legally liable for any kind of unrecognized reproduction or sharing on social media or other kinds of media sharing sites.
※ Viewer is required to have a high speed internet connectivity. Depending on your viewing condition, the video quality may be lower. The organiser nor Rakutuen Ticket(TicketStar) do not take any responsibility for any troubles.
※ Viewer has to cover any network fees due to the data usage.
※ Watching the video streaming will require large amount of data usage. It is recommended to connect your device to Wi-Fi or LAN.

【Recommended viewing environment】
Smartphone or Tablet device
・iOS 11.0 or later (Latest version of Safati)
・Android OS 5.0 or later (Latest version of Google Chrome)
PC
・Windows 10 or later / Mac OSX 10.9 or later (with latest version of Google Chrome, Safari, MS Edge or Firefox)

Before purchasing the ticket, please make sure you have above recommended viewing environment.
Please also check your device and software for defects.
Customer Support team will not be able to assist any troubles.
How to play the video
After purchasing a ticket, you can confirm your order information on
https://wp.tstar.jp/orderreview
.
Please click "動画を視聴する(blue button)" in Oder detail to watch the performance.
Information
NBS-Ticket BOX:03-3791-888(phone) or english@nbs.or.jp
Official site:https://www.nbs.or.jp/stages/2020/donquixote/streaming.html
Sales Period: General Sales
イベント詳細
CAST/STAFF
Dancers: Akira Akiyama, Yasuomi Akimoto
Tomoya Nakashima, Kazunari Kaida, Junya Okazaki, Kanako Nihei, Arata Miyagawa, Katsuhiro Nagata, Kurumi Kato, Miyuki Nakagawa, Emi Masamoto, Yurika Mikumo, Momoko Takumi, The Tokyo Ballet

Libretto: Marius Petipa in version of Vladimir Vasiliev after the novel of Miguel de Servantes

Music: Léon Minkus, Anton Simon, Valery Zhelobinsky,
Riccardo Drigo, Juli Gerber, Eduard Nápravník

Production and Choreography: Vladimir Vasiliev after Marius Petipa, Alexander Gorsky and Kasyan Goleizovsky

Set design: Victor Volski
Costume design: Raphail Volski

Conductor: Katsuhiro Ida
Orchestra: Theater Orchestra Tokyo

Lighting design: Takashi Kitagawa
Technical Director: Yoshiharu Tachikawa
Scenery construction: VUT, Toho-Butai, Nike Stage Works
Costumes, Shoes, Wigs: Grishko Moscow, MOMA Workshop, Yasuko Hoshino, Maruzen

THE TOKYO BALLET
Founder: Tadatsugu Sasaki
Director: Munetaka Iida
Artistic Director: Yukari Saito
Ballet Mistress: Shiori Sano
Ballet Staff: Kazuo Kimura